Christmas Katy is back for 2019 with a new look. We began our shows on Thanksgiving. You will find some new additions and upgrades to our display. Shows start at 5:30 PM until 9:00 PM Sunday thru Thursday. Friday and Saturdays 5:30 Pm until 10:00 PM. We will be up and running through December 25th. Christmas Eve we will run until 10:00 PM.
We have been lighting up Christmas for 13 years and hope you have enjoyed it as much as we have.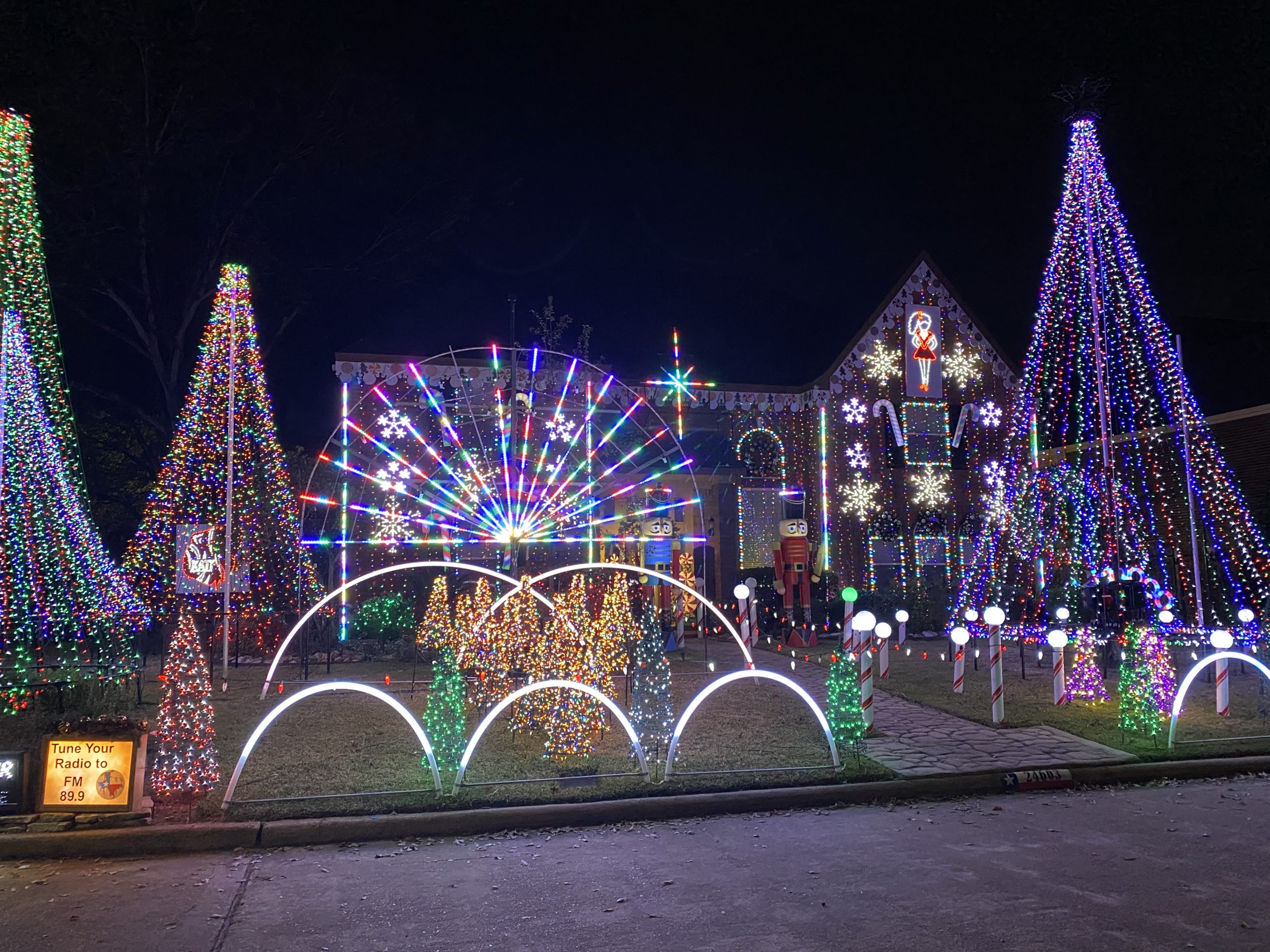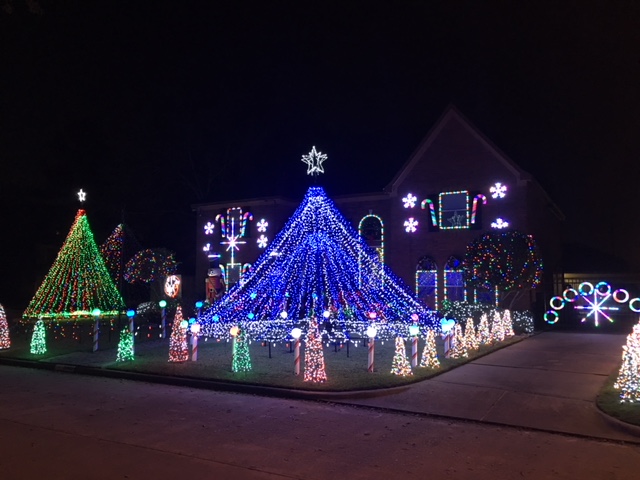 ChristmasKaty 2017
Snow In Katy Texas, December 8th, 2017 We were there!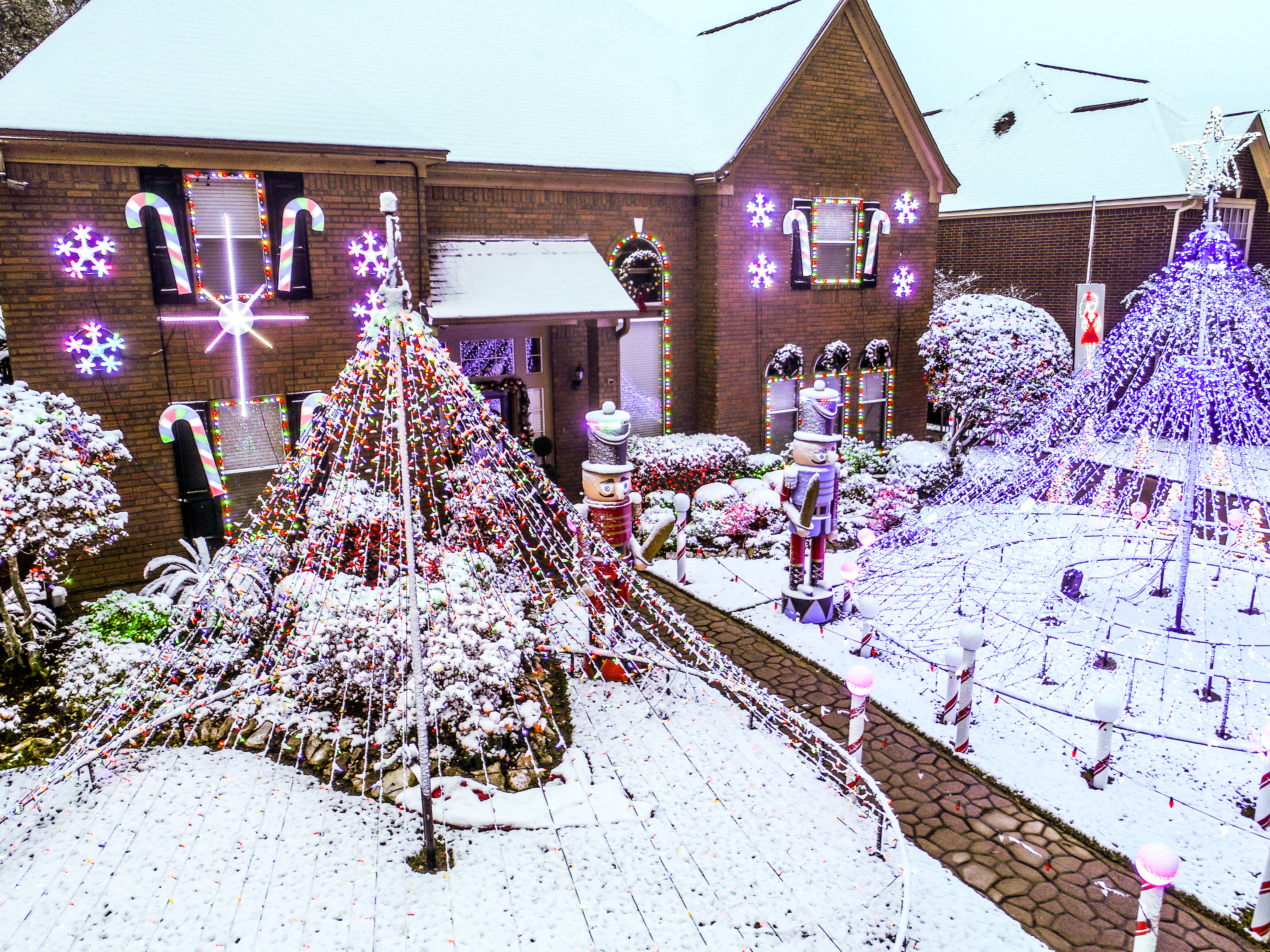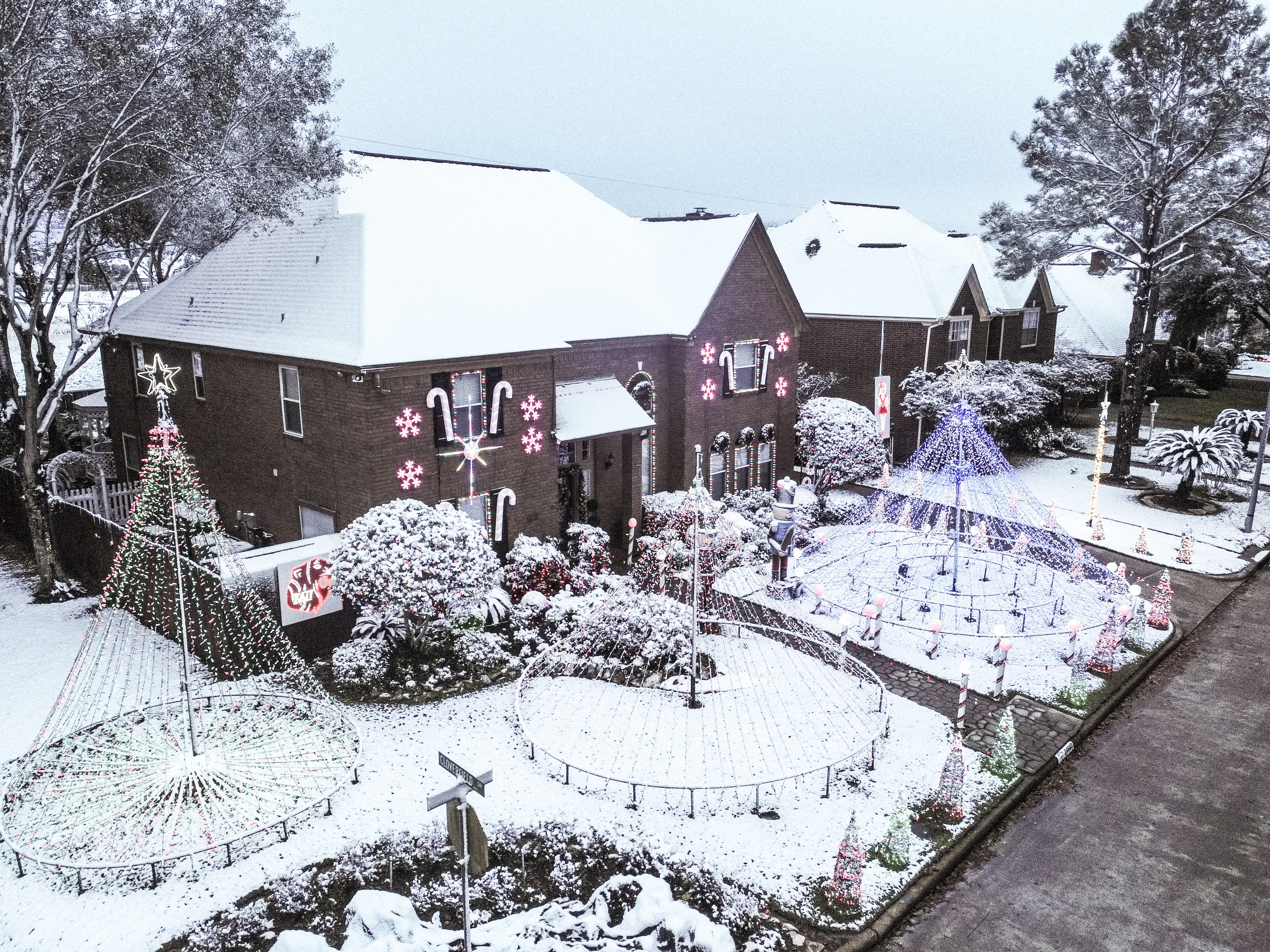 We look forward to the season and hope you enjoy your holidays. We begin preparation in late October by moving all the lights and props from storage to the house for testing lights and dusting off and painting. November 1st we will actively begin putting lights up and props out and have to be completed in 22 days to begin our shows on Thanksgiving night. When Christmas Katy started the original show used 48 channels of LOR (Light O Rama) controllers. This has grown over the years and this year ballooned to 6866 channels. We have 8 Cosmic Ribbons which really accent the show, and these have been augmented by the addition of additional RGB smart ribbon, RGB strings, and RGB modules which run off additional controllers on separate networks. Each Cosmic Ribbon (from LOR) has 50 RGB LED lights. These are individually color controlled and together add 1256 channels to our show. Each LED light must be programmed when to turn on or off, and what color to produce. The RGB smart lights are on 6 mini arches along the street and add additional pop to the show. We have also built some RGB modules for each of the 16 posts around the Triple Mega and the 8 posts which border the sidewalk. In 2015 we added a circular arch on our gate made up of 8 RGB Majic circles that we built and were a big hit. Over the front door we have suspended a 6 ft. high Bethlehem Cross LED. We added six RGB Coro Candy Canes which are back. Our neighbors on the street who joined our show are back as well. There are 17 songs, or sequences for 2018. The 32 ft. Triple Mega Tree is back and is the largest item in our display. There is a second Mega Tree which is red/green, and a third Red/Green/Blue/White. Other notable features are the RGB "Marty Fan" with 16 Channels and the Cosmic Arches on the left side of the display. As a tribute to our son and daughter we have a Katy Bengal Brigade Mascot reflecting when our daughter was Colonel in the Brigade, and the LED Katy Tiger Mascot for when our son was a Captain at Katy High School Football. We hope you can visit and enjoy the holiday music and the light synchronization. We will start our shows Thanksgiving night and will continue through Tuesday, December 25th. Sunday through Thursday from 6:00 PM to 9 PM, Friday and Saturday 6:00 PM to 10 PM. Christmas Day the show will be extended to 10 PM. Please remember to turn your headlights off, and use your parking lights when you watch the show. Please no emergency lights flashing . If you get a chance to park please do not park against the flow of traffic. Turn your radio to FM 89.9 for the music. Any questions can be emailed to CK57@Comcast.net and we will respond as soon as possible.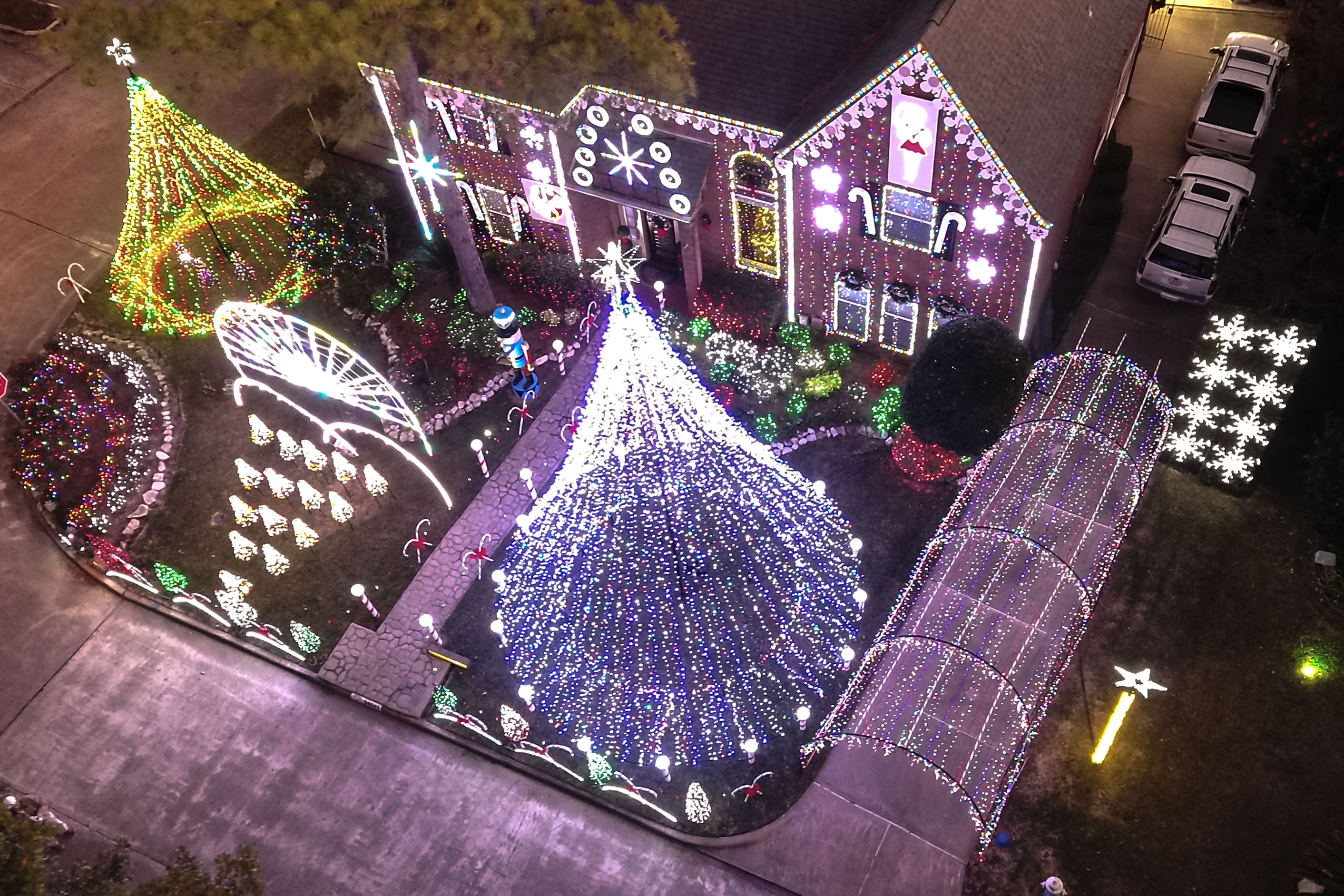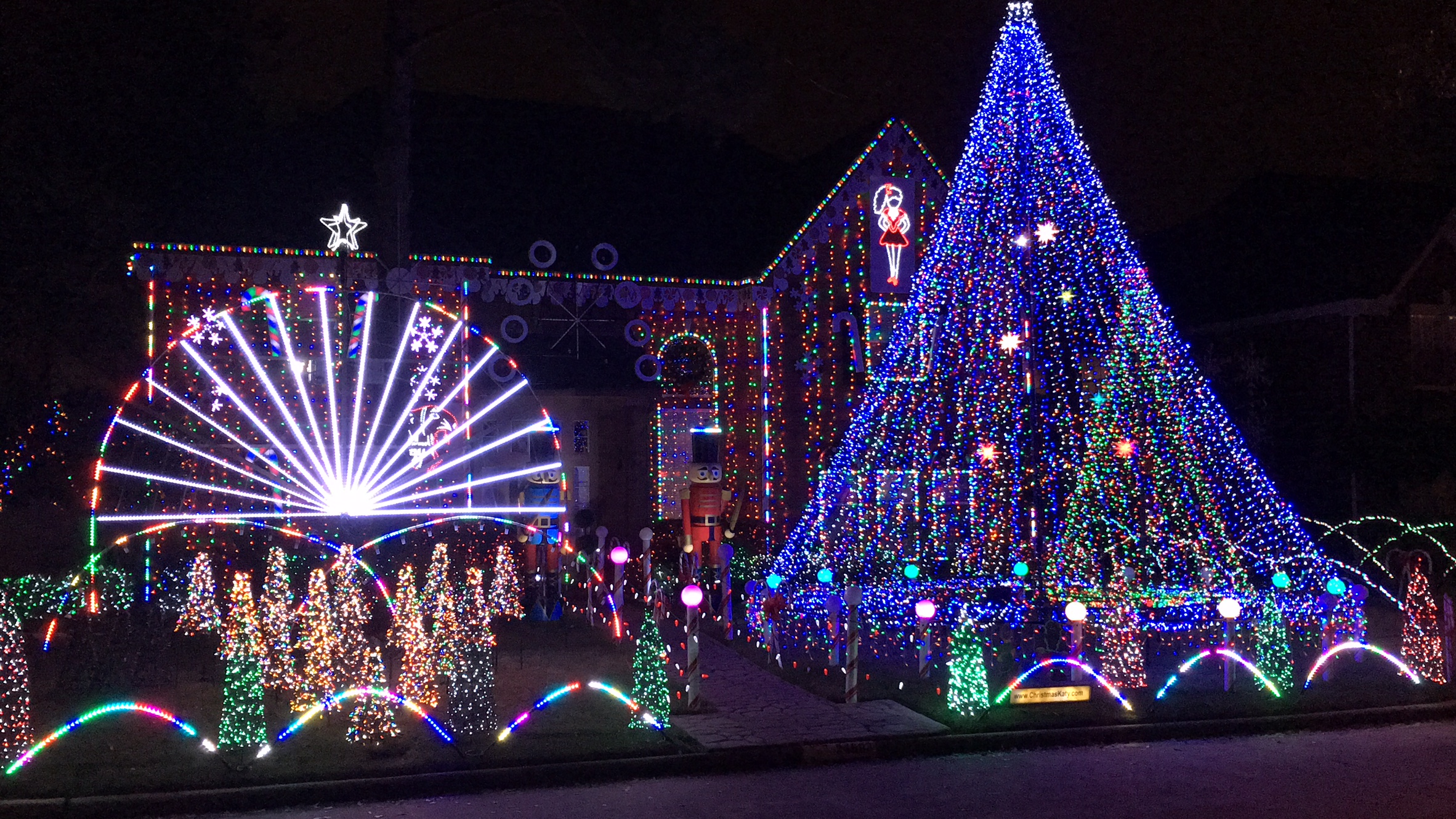 2015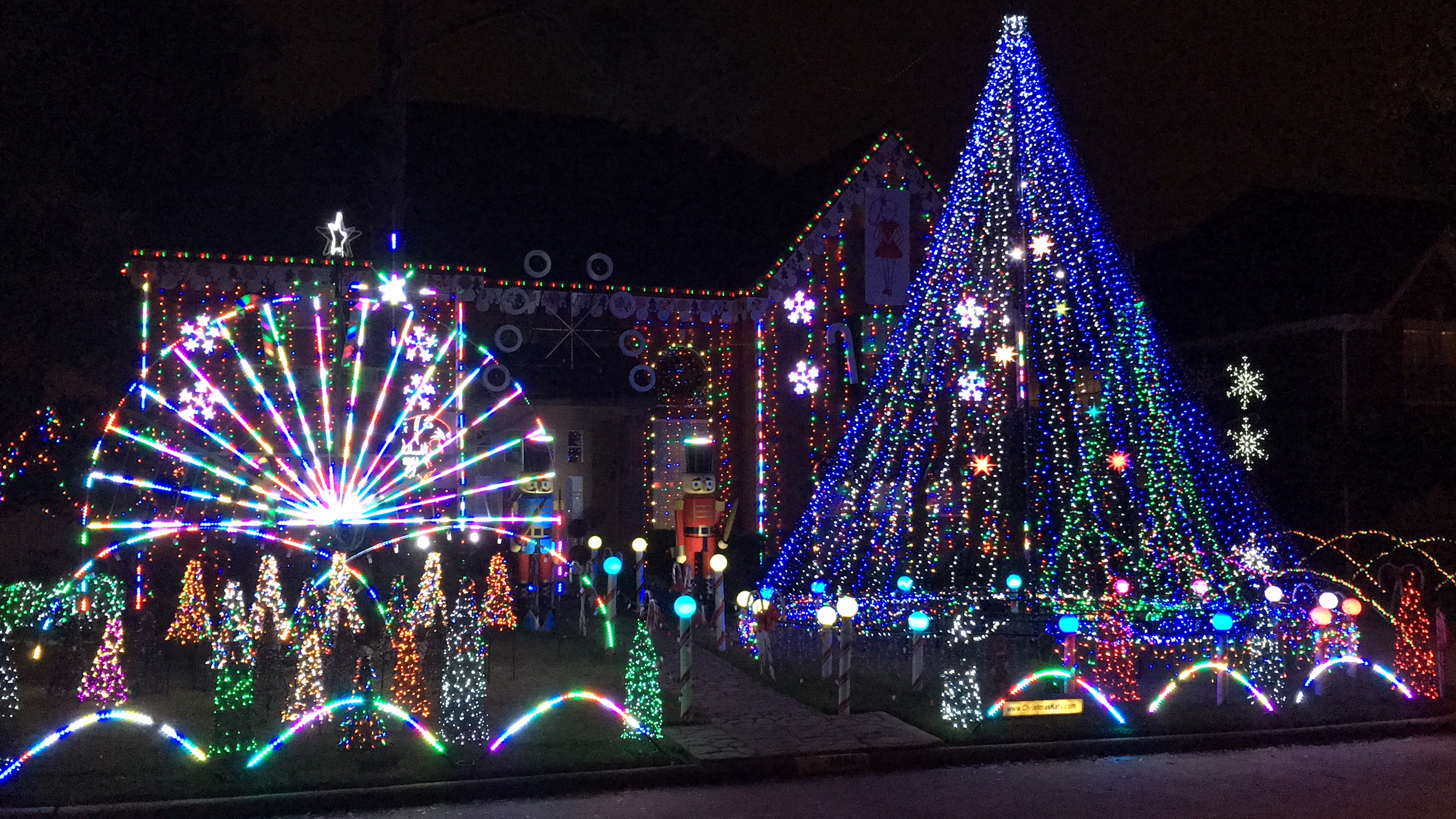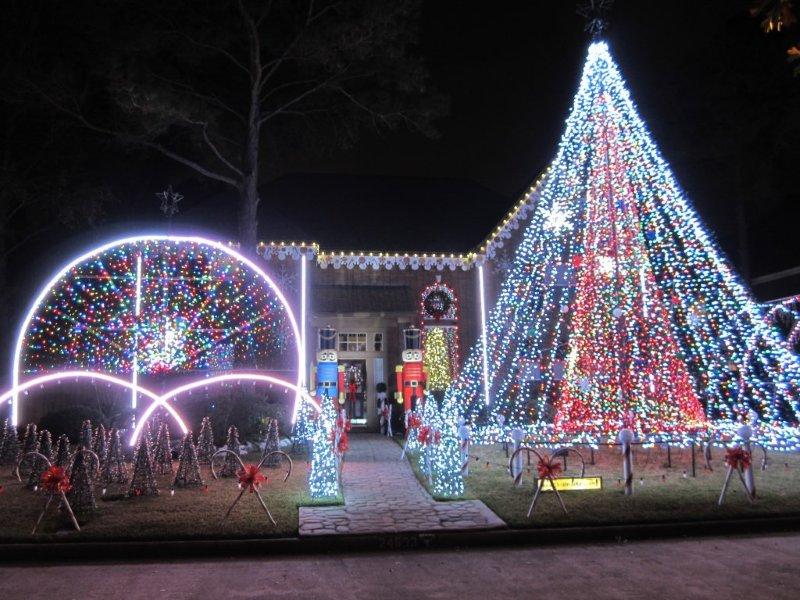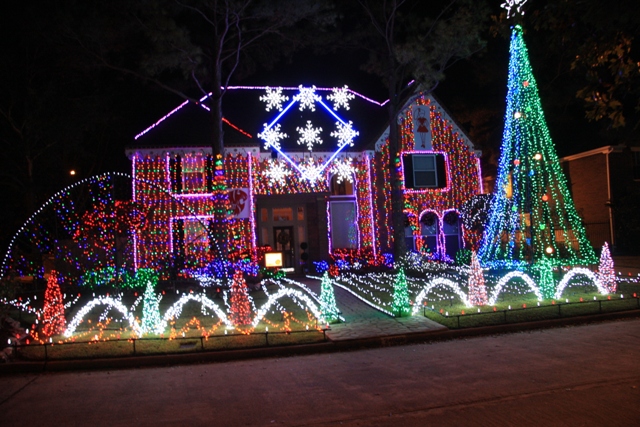 2009